About Us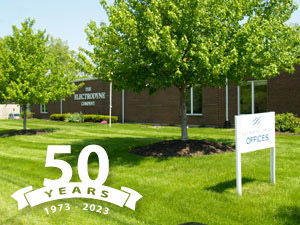 Walter S. Blume, Electrodyne founder, invented the bonded class and quality of magnet which Electrodyne produces. The invention resulted in U.S. patent 2,999,275. The patent was awarded, to Mr. Blume, on September 12, 1961. He was also awarded corresponding patents in England, Western Europe, South America, Australia and Japan.
Practitioners under U.S. patent 2,999,275 included: The Magnetics Division of The Leyman Corporation, assignee; The 3M Company, assignee; The B.F. Goodrich Co., licensee; and The Stackpole Carbon Co., licensee. Licensees in Europe included: Deutsche Edelstahl Werke, Germany; Sampas, Italy; and Allevard Ugine, France (now producing magnets in the U.S.). The magnet described is also produced by prominent companies in Japan and elsewhere in the Far East.
Mr. Blume has been awarded more than 40 patents in the field of magnetics alone. The most recent U.S. patents among them (4,873,504 and 5,424,703) were issued on October 10, 1989 and June 13, 1995 respectively.
Mr. Blume truly is a pioneer in the field of magnetics. That same inventive spirit is what The Electrodyne Company is built on today. We strive to provide the best quality products to our customers no matter what the application. We guarantee your requirements will be met with our custom product solutions.
The Magnetics Division of Leyman was the first to manufacture the bonded class of magnet relevant to patent 2,999,275, first mentioned above. The Division was formed by Mr. Blume in the 1950's, remained under his management, and enjoyed international recognition and success with its product. The Leyman Division was ultimately succeeded by The 3M Company which in 1967 had initiated negotiations, with Leyman, to acquire the Division and underlying foreign and domestic patents Mr. Blume had assigned to it.
Subsequently, Mr. Blume established Electrodyne which is currently celebrating over 50 years in the business of magnet manufacture.
Present day operations at Electrodyne are under the direction of Scott Blume, Electrodyne President.
In keeping with Electrodyne's commitment to provide new and innovative magnetic material to our customers, Scott was awarded U.S. Patent # 4,873,504 and 6,707,361, along with several foreign patents. Additional patents are pending.