Magnetic Retail Signs
High Energy Magnet Simplifies Placement of In-Store Retail Signs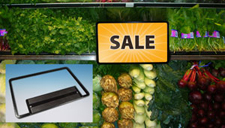 High energy magnets are helping grocery stores and other retail establishments to easily place signage within their stores. That's because the magnets, which are glued onto the sign frame, securely hold the signs onto freezer cases and other metal surfaces without the need to drill holes, or permanently fasten the signs in place. This allows department managers to quickly install signs without tools and without the need for maintenance personnel. When the promotion or sale has run its course, the sign frame is easily removed by department personnel. Applying ample force on the sign frame by pulling it away from the metal surface releases the magnetic bond, and allows store personnel to change the card and re-use the frame. The ease of use and convenience of magnetic signage makes them ideal for grocery stores, department stores, mass merchandisers and other retail establishments.
Sign frame manufacturer Shaw and Slavsky, which has been making magnetic sign frames for years, purchases the high energy magnets from Electrodyne of Batavia, OH. "We buy magnetic strips that are ¾-inch wide and either .187″ thick or .125″ thick to accommodate the different frame sizes we offer" says Tony Linares design engineer at Shaw & Slavsky. "Then we apply a double-faced adhesive to the magnets and cut them to whatever size we need. Both sizes of magnets provide ample holding power for the varied environments in retail applications."
The frames, which are manufactured from 1 x 8-inch cold rolled steel strip or 2 x 8-inch steel, are designed to optimize the magnets holding force. An adhesive backing holds the magnets securely to the frames – which are available in either chrome plated or powder coated to customer specifications.
Shaw and Slavsky, which manufactures various different sizes of magnetic sign frames, purchases the Plastalloy magnets in 60-inch strips so that they can cut the magnets to whatever lengths they need. "Electrodyne has offered to cut them to length, but we're never sure what sizes we'll need" said Linares.
In general, flexible magnets fall into two categories – low energy (less than 1.0 MGOe) and high energy (more than 1 MGOe). "Often, when customers think of flexible magnets they think of "fridge magnets," comments Ken Koch from magnet manufacturer The Electrodyne Company. "Refrigerator magnets are normally low energy material with one strong side and one weak side. High energy magnets, like Plastalloy that Shaw & Slavsky specifies for this application, are anisotropic, so both sides are equally strong."
"High energy magnets are ideal for this application" continues Koch. "Unlike fridge magnets, these permanent magnets stand up to the varied conditions that they are likely to encounter within stores. Freezer doors are an excellent example. High-energy magnets stay in place despite the condensation that builds up when the cold and warm air meet on the freezer door."
"Dirt, grease and even cleaning products can prove hazardous to the low-energy magnets," continues Koch, "but Plastalloy, which is approved for demanding automotive and industrial applications, never loses its holding force."
Low energy magnet applications include bin tags, magnetic signs, and holding graphics. High energy magnets are used where more holding force is required, so they are used for applications like shelf dividers, sign bases, display toppers, hanging sign holders, holders for individual packs of cigarettes, and more.
In addition to increased holding force, high energy magnets can be easily machined to custom sizes and shapes. "High energy magnets allow a product manager to realize their marketing display goals more easily due to their versatility, and ease of fabrication," says Koch. "They are available domestically in an infinite variety of thicknesses, widths and with customized magnetization patterns to suit particular application requirements" concludes Koch. Magnetic strength was just one aspect that enticed a major manufacturer of in-store signage to use high energy magnets.
Fewer Pieces Speeds Assembly & Installation
Purchasing the magnets in rolls allows Shaw & Slavsky to determine at the time that they manufacture the sign frame what size the magnet should be. Although most of their products are standard sizes, they offer numerous dimensions. Because each size weighs more (and to accommodate the weight of placards or cards placed within them) each frame requires different sized magnets. Cutting them as needed thus simplifies the stocking and ordering of the magnets. Lead-free Plastalloy® is equally strong on each side – so there are no orientation concerns when placing the magnet onto the frame.
Magnets also simplify placement of the signs at the point of use. Traditional signage is either glued in place or screwed into position. Neither of these is optimal, because both require additional time and effort for the installation. Drilling the frames and inserting screws through the frame and into the metal beneath requires a maintenance person to perform, and leaves unsightly holes when the sign is removed. Permanently mounting the frame can also make it more difficult to change the placard or card within the frame.
While gluing is easier and requires no holes to be drilled, the glue can mar the surface when the sign frame is removed. Harsh solvents required to remove the residue can also deface the surface.
Magnetic sign frames, on the other hand are applied by simply placing them onto a metal surface. If the orientation is slightly off, then store personnel can simply pop off the sign frame and place it wherever they wish.
Simplified production and inventory is certainly good news for Shaw and Slavsky, while easier installation is a welcome benefit to their many retail customers. Interestingly much of the success can be attributed to the inconspicuous high energy magnets that hold the project together.