Custom Magnets, Magnet Design, Magnet Manufacturing
Electrodyne is an industry leader in the design and development of bonded permanent magnets. With the depth of experience in permanent magnets spanning decades, our technical staff can assist you with the following services: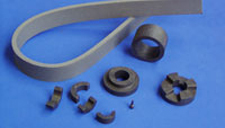 Magnet Design
Magnet Engineering
Magnet Prototyping
Magnet Testing
Magnet Manufacturing

We can assist in the design of permanent magnet materials that meet your requirements. Whether those requirements call for neodymium iron boron magnets or strontium ferrite magnets, Electrodyne is your partner of choice.
Complete Magnetics Testing Laboratory
Electrodyne has the equipment to perform an array of tests which include: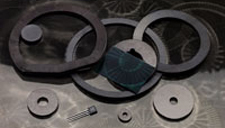 Magnetic hysteresis
Magnetic field mapping
Tensile strength
Elongation
Gauss measurements
Heat aging
Pull testing
…and more
Magnet Design & Prototyping
Electrodyne can develop custom compounds for special magnetic and/or environmental applications. Once a compound has been determined, Electrodyne can produce prototype samples for testing or engineering approval through a variety of techniques including laser/water jet, machining or steel rule dies.
Magnet Fixture Design & Prototyping
Electrodyne designs and builds many of the magnetizing fixtures used in production and can help the customer develop a pole pattern which is optimal for their requirements. Electrodyne also has its patented ETC Magnetizer, which can be designed and built as an in-line magnetizing station for use in the customer's production facility.