Products
Flexible Magnets
Plastalloy™ Flexible Ferrite Magnets
The Plastalloy™ flexible magnet products are produced in three forms:
Ferrite Magnet Sheets
Ferrite Magnet Strips
Ferrite Magnet Die-Cut Shapes
The following value added options are also available:
pressure sensitive adhesive
vinyl laminations
polarity identification
customized formulations
special cutting techniques
As with all Electrodyne products, our technical staff is available to discuss the production of specialized compounds and magnetizing fixtures to meet your requirements.
Plastalloy™ has the versatility of accepting several methods of magnetization. The standard methods are conventional, two poles each side, and multiple pole. Plastalloy™ magnets are also available with custom magnetization patterns making them ideal for low cost position or speed sensing encoders. (See method of magnetization link).
Plastalloy™ flexible magnets can take it. They are certified for the extremes of most automotive applications including exposure under the hood as well as inside the engine, transmission, and differential.
Plastalloy Typical Demagnetization Curves
P1-A
P4
P6

Maximum Energy Product, Bd Hd max (gauss-oersteds)

1.1 x 10

6

1.4 x 10

6

1.6 x 10

6

Residual Induction Br (gauss)v

2200

2450

2610

Coercive Force Hc (oersteds)

2000

2100

2150

Intrinsic Coercive Force Hci (oersteds)

2900

2800

2650

Temperature Coefficient of Magnetization (%/C)

-0.02

-0.02

-0.02

Temperature Coefficient of Coercivity (%/C)

0.1

0.1

0.1

Specific Gravity

3.65

3.65

3.65
P1A-red, P4-yellow, P6-black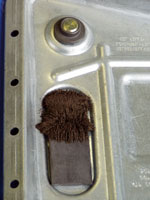 Plastalloy™ Flexible Ferrite Magnetic Chip Collector
Painted Plastalloy™ Flexible Ferrite Magnet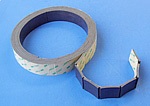 Special Cutting Techniques